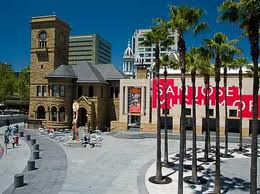 Being stationed in Hawaii definitely has its benefits but convenient transportation to and from the islands is not one of them. Fortunately, military discounts for airline tickets make it more affordable for service members to fly for personal reasons. On June 4, a round trip ticket between Honolulu and San Jose is available for only $233.09.
As leave destinations go, San Jose is an excellent choice. It is the third largest California city, located at the southern portion of San Francisco Bay. The subtropical Mediterranean climate results in more than 300 days of sunshine annually, with an average daily high of 73 degrees. This city is home to two professional sports franchises, the Sharks NHL and Earthquakes MLS teams.
San Jose is organized into geographical regions, several of which feature hotel accommodations. Luxury hotels include the downtown San Jose Marriott, which is convenient to the airport. Amenities include pillow-top beds, a fitness center, and a heated outdoor pool. Michael Mina's Arcadia restaurant is inside the hotel and nearby are Billy Berk's, Flames Eatery & Bar, and 51 Saint Peter Mediterranean grill.
Military discounted airline tickets
to San Jose are popular due to the many local attractions. The Center for the Performing Arts is home of Ballet and Broadway San Jose. Military families will enjoy the Children's Discovery Museum of San Jose, currently featuring the Adventures with Clifford The Big Red Dog exhibit. The San Jose Flea Market is the largest open-air market in the country, popular with both residents and tourists.
With a round trip
military discount airline ticket
from Honolulu to San Jose, service members can enjoy this and more for a $233.09 airfare. A price this low fits most military budget and gives travelers extra spending money for dining and entertainment.
Click here
to secure your seat and get ready to experience San Jose.